There were six artist-directed feature projects chosen to participate in last autumn's CPH:DOX Forum in Copenhagen. Features film projects that slide into territory that wants to be considered part of the nonfiction cinema storytelling genre – although the "truth" of the story might just be a suggestion, an inspiration, a starting point. Turning from incessant thoughts of gloom and doom regarding "the death of cinema" as has been the fashion the last couple of years, things are starting to look up again in terms of distribution and exhibition opportunities. This is, in part, thanks to a creative, innovative few who refuse to give up on the possibility of exhibiting cinematic works in a proper venue with an attendant, captive audience. The makers and producers that are enabling these works to get finished and seen are becoming more adventurous. It's not insignificant that a major international documentary
festival means to grow this sector of very specialized creative work.This trend is growing rapidly with CPH:DOX a distinct leader. In early 2013, CPH:DOX, the International Film Festival Rotterdam (IFFR) and the British art film organization called LUX, plan to join forces to launch a new international platform called ART:FILM. Since both the production and institutional contexts are quite different from the theatrical model, how will this influence the creative process of making a feature-length film? This discussion and the building of this new "industry" will become an integrated section of future editions of two of Europe's major international film festivals that showcase experimental, genre-defying work.
The makers of the Forum projects are all well-regarded artists, most of them working in sound and vision, a few coming from more arts and crafts-based work, and/or performance art. The individual approaches and aesthetic imperatives are as distinct and personal as fingerprints. To match this, there is a growing number of producers and production companies willing to invest time and resources to nurture and often financially support this kind of work. This is seemingly as far from market-driven fare as one can get. However, in several of these projects, and in the collaborations between producers and directors, there is intense focus on the potential audience(s) that will encounter the work, slightly distinguishing these films from something made specifically for installation in a gallery space or museum. Aside from the prestige of having a major art institution such as the Museum of Modern Art in New York City or the Tate Modern in London exhibit a piece of work or buy it for their permanent collection, there are a handful of international curators who actively support and seek out works that traverse the borderland between film and visual art and who have an active role in developing and financing these works.
Irish artist, Willie Doherty, has been working with the moving image since 1993. His video installations have made regular appearances at the Venice and São Paulo Biennales and he's been shortlisted for the Turner Prize twice. Doherty was also the Artist In Focus in Copenhagen this year, his oeuvre showcased in specially curated programs. His producer, Pearse Moore of Raw Nerve Productions based in Northern Ireland, is partnering with Doherty to make a film called Amnesia. Continuing his exploration of engagement with the historically contested landscape of Northern Ireland, Doherty's film will employ elements of fact and fiction using documentary footage of contemporary Derry as a connection with the past to tell a story of seemingly disconnected events spanning fifty years, from the disappearance of a young boy in 1980 to an imagined future in 2030. as we struggle to understand who and why we are in ever-expanding creative collages of thought and deed
In his second feature project called Rey, American artist, Niles Atallah, who now lives in Santiago, Chile, will use a variety of film and digital formats – including archival material from early cinema – to illustrate the gradual excavation of the memory of his main protagonist. Atallah's goal, as in many of these more ephemeral works, is to utilize diverse aspects of sound and vision to realize a descent into deeper layers of consciousness. The challenge: how does one "document" this? As a satellite project to the feature, Atallah and his team will explore the metaphysics of decaying imagery with the resulting photos and short films intended as part of an exhibit for art spaces. It is an opportunity to enhance the strictly digital multi-platform approach with a real-time encounter. This kind of exploration brings to a film work the use of the raw materials of cinema to create otherwise difficult-to-encounter internal phenomena of change, transcendence and renewal.
Sergio Caballero is the co-director and art director of Sonár, Barcelona's International Festival of Advanced Music and New Media Art. In his feature project, La Distancia, he is working within the genre style of suspense and science fiction. Through the use of three dwarves with supernatural powers, the artist plans a heist of something called "The Distance" to partly capture the essence of an elusive protagonist who can "dominate parallel universes."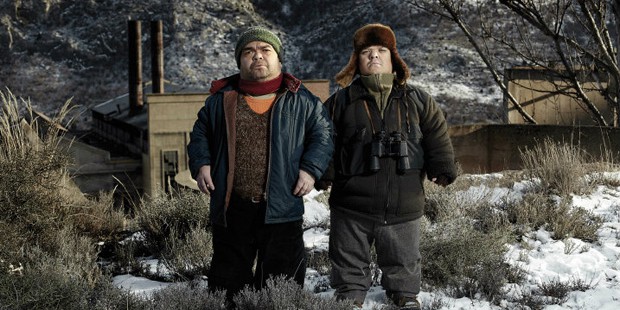 Why these themes and explorations should be the exclusive privilege of  someone labeled "an artist" to approach a feature film or meta-narrative this way is unanswerable. But the impetus for experimentation broadens this scope instead of narrowing it. In each of the presented projects – there were also pitches by duo Ben Rivers and Ben Russell, Rirkrit Tiravanija, and Selja Kameric – a dream-like character portrait emerges to illustrate complex ideas and storylines, often in Quixote-like quests and spiritual journeys into interior landscapes. Grounded in both staged and improvised "real" events, these makers mean to push the boundaries of concretizing a narrative through characters, both real and imagined, who can occupy all times, all spaces. As wild and free as one might imagine it would feel to come up with these scenarios, caution needs to be applied due to the fact that works of this nature can devolve into a metaphysical morass, a soupy incomprehensible mess, to the point of total disengagement. It's not for the faint of heart to delve into this kind of material and craft a coherent, cogent piece of cinema, although aesthetically they will all certainly be captivating.
Stream-of-consciousness storytelling in literature can often bring a reader closer to a story's protagonist. In film, not even the most intimate interview or hard-won emotional access to an individual can touch the possibility of expanding one's own consciousness through having a
deeper understanding of another being's consciousness, whether that being is real or imagined. The intelligence behind the craft of dramaturgical and narrative scenarios needs to be well honed to make it an articulate and moving encounter. This kind of work can explore, depict, describe, and decode hard-to-articulate mysteries of the human condition, bridging differences and creating cultural connections that might add to a more collective consciousness – molding existing and original material to expose an audience to new ideas. It is an apt lens for illuminating the human condition – the twisting and turning, the metamorphosis, which we all experience as we struggle to understand who and why we are in ever-expanding creative collages of thought and deed. Simultaneously, the hope is to initiate visceral and sensory responses from an audience. The theoretical drive behind both exhibition models of the cinema and the art space is based on allowing audiences to experience tactile and intimate encounters.
What I hear most curators, funders and producers of this kind of work say is that utilizing a more creative and subliminal approach to chart the sociopolitical and cultural landscapes of our world can create complex, ambiguous and, quite often, contradictory meanings. Therein lies the richness and resiliency of this work. It is time-based only in its ever-broadening expansion of ways in which to address universal and unbound themes, utilizing the metaphorical language of poetics to enhance a filmmaker's ability to express a more radically expansive language of cinema, where anything is possible.
-