With today's bombardment of information, or what can be called simulacra and simulation, evoking what is truly real is a challenge, especially in the supposed reality of documentary cinema.
Director of Programming Sean Farnel at HotDocs 2011 stumbled upon his own intuitive interpretation that levitated from a vast curation of seemingly unrelated films: striving for authenticity. He attributed authenticity to the documentary's ability to convey feelings and ignite a connection between the subject and viewer, while also allowing audience members to collectively experience an arc of emotions. "There's courage both in this willingness to strive towards authenticity, and to be seen, visible and vulnerable in that striving," writes Farnel.
Indeed, subjects and filmmakers took personal and emotional risks to bring their stories to life. Hot Docs unleashed an tide of films with hefty servings of bravery in terms of boldness of subject and brazenness of storyteller. But stretching the notion of 'striving for authenticity' one step further, most striking was the incentive of Generation Y to stick to the 'true' path in the hope of producing, or being, something real. In a world that raised them on media and digital technologies – often clouding their ability to distinguish reality from fantasy in a hyperreality – young people today have a tendency towards disenchantment, be it with their government, their country, or society's expectations. Ultimately, they might have a tougher time just being themselves.
Several selections at Hot Docs showed young people struggling to shrug off the numbness and stay true to their core, in the realms of politics, passion, art and attitude. To be politically authentic is a problematic idea, oxymoronic if you will. And if you're an idealistic youth who wishes to 'better this world' in America's current political climate, it might be wise to rethink your tactics on 'fighting for your rights.' In Katie Galloway and Kelly Duane de la Vega's documentary, Better This World, two childhood friends from Midland, Texas stand up for their political beliefs and end up facing domestic terrorism charges. As activists disillusioned by the direction of their country, 20-year-olds David and Brad liaised with an anarchist group in Austin, leading them to the front of the protest lines at the 2008 Republican National Convention. They are pressured by their political mentor – nationally recognized radical Brandon Darby – to prove their allegiance to the cause.
The best friends hit the local Walmart for supplies and manufactured eight Molotov cocktails, with the intent to use them on lawenforcement vehicles in a parking lot. Shortly thereafter, their revolutionary ringleader Darby is revealed as an FBI informant. Claiming entrapment as a defense, David and Brad face 30-year sentences and pressure from the authorities to turn each other in and accept a plea bargain. The bulk of the visually and sonically sophisticated Better This World is told by the intelligent and highly articulate David and Brad, who allow the directors into their family homes and jail cells to hear their story, throughout the trial and its aftermath. The two Texans are dauntlessly sincere about their politics and actions that prompted the FBI to come snapping at their boot heels. In the heightened paranoia of post-911-homeland-security mania, the lines continue to blur between revolutionary and radical, between sticking to your convictions and becoming a national threat. Even at a young age, David and Brad knew what was right (and still do) and they are not likely to stop fighting for the kinds of changes in the world they deem imperative.
«Young people today have a tendency towards disenchantment, be it with their government, their country, or society's expectations»
In the vein of other documentaries that come from the arid grasslands of the Afghani battlefield, Restrepo and Armadillo respectively, war photographer Danfung Dennis's feature debut, Hell and Back Again follows 25-year-old Sergeant Nathan Harris as he transitions between two visceral apocalypses – one riddled with machine-gun fire in Afghanistan and the other back home in North Carolina, where the battle continues as Harris struggles with a severe leg injury that either has him writhing in pain or stoned on painkillers. In an attempt to lift the general public out of a war fatigue perpetrated by ten years of mainstream media coverage of the War on Terror, Dennis and Harris deliver us the average soldier's take on Afghanis and Americans, battle and blood, fierce pain and the thirst to kill.
Harris is a resilient soldier, but a fallen one, both physically and psychologically. What makes Hell and Back Again particularly noteworthy is its delicate, honest, handling of America's place in Afghanistan and the place of American soldiers back home.
Dennis keeps the camera rolling in candid moments among the soldiers and between Harris and his wife, recognizing that both the profundity and downright idiocy of war are equally important in its reflection.
With fewer excuses for herself and her country – and evidently less reluctance than Nathan Harris when admitting her pain, guilt and resentment – is Robynn Murray, an American cheerleader-turned-soldier-turnedpost-traumatic-stress-victim in Sara Nesson's Poster Girl. Debilitated by depression, riddled with mental anguish and haunted by ceaseless nightmares upon her return from Iraq, Murray battles the red tape of Veteran Affairs and her own enraged demons. Tattooed "with the story of war, regret, yet pride" to eternalize both her weapons and wounds, Robynn Murray turns herself inside out over the course of two years in front of Nesson's lens.
Just 38 minutes long, Poster Girl is one of the most sincerely heartbreaking laments of war, capturing raw emotion and Murray's progression towards redemption. Totally disenchanted by the army, she admits to the lives she destroyed while retracting her allegiance to the military that ordered her to do so. In a wonderfully cathartic decision, Murray joins an art collective for exmilitary personnel that shred and pulp their uniforms to make something beautiful. Reappropriating her purpose in life, along with the mental, emotional and tangible baggage she brought back from battle, Murray literally sheds her skin before our eyes and stands outside her anguish – new and genuine.
Then there is the kind of genuineness that comes from doing exactly what you love most in life – regardless of poverty or desperation, no matter how society's clock ticks and applies the pressure of productivity.
Dragonslayer, by first time director Tristan Patterson, took the top prize of Best International Documentary at Hot Docs for the story of 23-year-old skate punk, Skreech, who takes full advantage of southern California's economic collapse by skating the deserted swimming pools of foreclosed homes and camping in his friend's backyard. In super-saturation, Dragonslayer could easily plummet into music video territory, with its freeze frames, chapter sequences, vibrant shots of shirtless scrawny young men loaded on cheap beer and pot, along with its bombastic soundtrack and nostalgic rendering of hyperactively vocal, free spirits who slip through space and time – especially on their boards.
But Patterson's film goes far beyond a flashy portrait of wasted (as in drunk) youth and reaches a core that speaks volumes about dreaming your way through reality. Though Skreech reaps the benefits of sponsorship – free skate shoes, new boards, and travel to foreign places for competitions – we see the other side too: the poor youth from a broken home, a lost kid with a baby of his own who feels the cold, steel hook of capitalism poking him in the back. Skateboarding is Skreech's whole life – his true love and his purpose. His admirable dedication has also given him the status of a recent legend among his community and contemporaries.
«Freeze frames, chapter sequences, vibrant shots of shirtless scrawny young men loaded on cheap beer and pot, along with its bombastic soundtrack and nostalgic rendering of hyperactively vocal, free spirits»
But as Skreech soars off a ramp while living his dream, he must come down to earth, and sometimes with a bump. The pressure of 'getting by' instead of 'going nowhere' is the roadblock in Skreech's life, the external force that stops his inertia. Sadly, being true to your passion is really, really hard to do, as we watch Skreech get closer to responsibility which, tragically, has less to do with his dreams.
But if there was one film at Hot Docs whose content or approach was so authentic it could never have been anticipated or even pinned down, it was definitively Gravity Was Everywhere Back Then. Brent Green's filmic undertaking about his neighbor, Leonard, who turned his house into a healing machine in the hopes of curing his terminally ill wife, is part love story, part experiment, partially the work of a harebrained madman. And that goes for both the subject and the filmmaker. Gravity might be the ballsiest documentary on the screen this year, not because of the hardships or risks it took to tell the story, nor for its exploration of socio-political strife. No, it's ballsy simply because Brent Green is not afraid to be who he is, as a filmmaker, an artist and a dreamer.
Gravity Was Everywhere Back Then is true to itself – romantic, weird, whiny, earnest, and sad to be so – everything today's 20 or 30-somethings struggle with while being embarrassed about. But Green is not embarrassed, nor does he make any apologies for cramming every brand of artistic cinematic technique, along with every scrap of poetic musings he's collected over the years, into his film, tearing down the boundaries of the genre in the process.
To tell this story, Green handcrafted a full-scale replica of his neighbor's house in Louisville, Kentucky, behind his own barn in Pennsylvania, and recreated the house's idiosyncratic traits: numbered staircase, flashing light bulbs, slanted window frames painted different colors, and a twenty-threefoot high tower for a laundry room. "I built a whole town in my backyard – five houses, a handmade working piano, a huge glowing moon, and a giant, wooden, fully functioning God," says Green.
The idea that Leonard, and subsequently Green, built a house upwards towards God is mentioned more than once throughout the film, followed by Green's poetically defeatist ramblings about the absence of God and magic in the end. Leonard's house could not save Mary's life, and so Green returns to his existentialist angle as the sole agent responsible for the authenticity of his life and his art.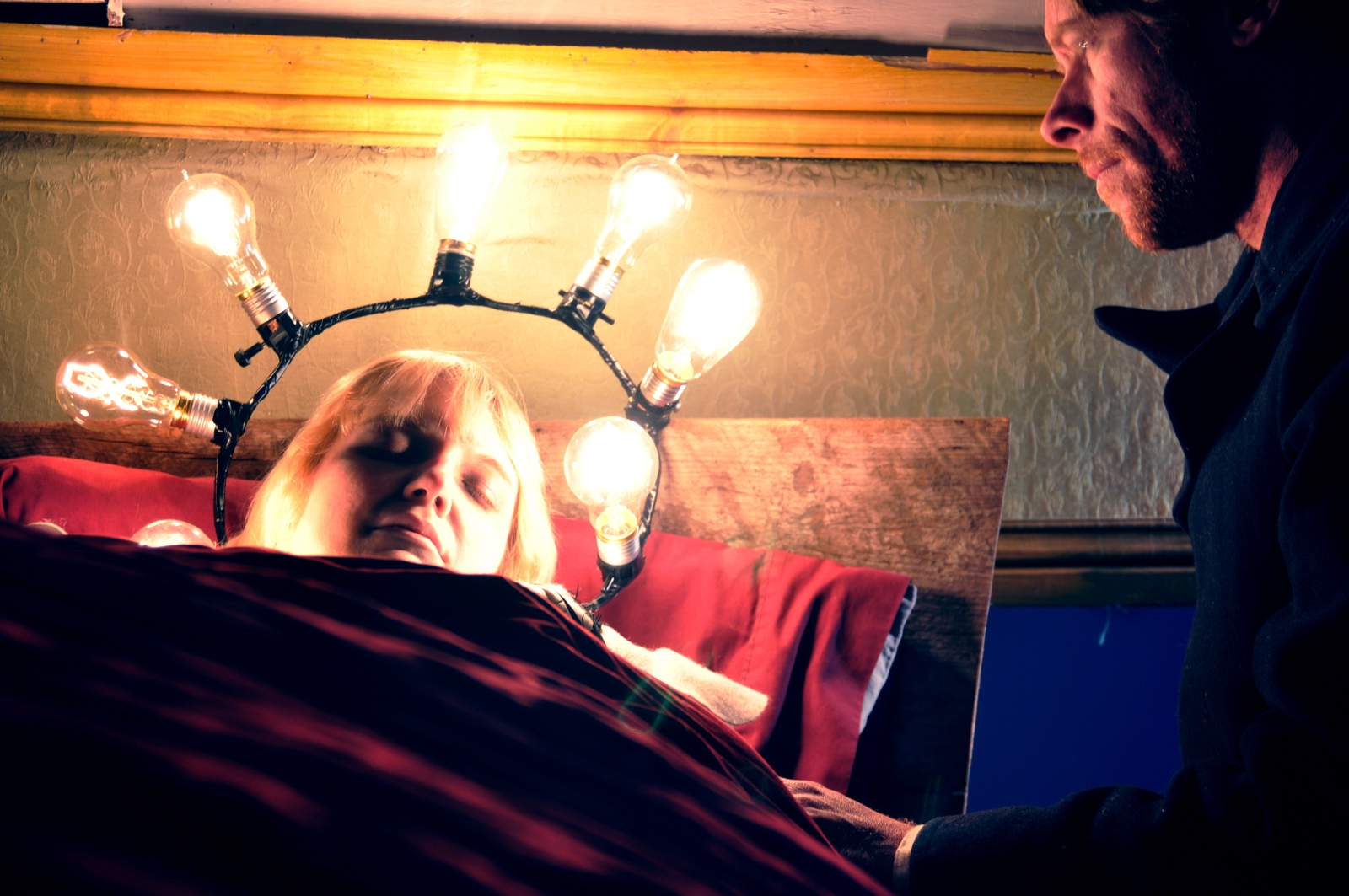 Casting Leonard and his wife Mary from out of what appears to be Green's collaborators and friends (as seen in the credits, the three of them filled various crew positions, including the soundtrack), the director uses animation and stop-motion along with live-action to summon the bittersweet and whimsical moments in life – gardens that grow fantastically, wire angels that summon the dead, a house that rains on the inside. Narrated by the conversational and often quivering voice of the director in all its intellectualized nervousness, Green devotes his whole heart to his film, to the memory of Leonard and Mary, and to us. It is more honesty than we could ever hope for. And because of this, to criticize Brent Green's choices as a filmmaker would almost be hateful, like passing judgment on someone's entire life.
The young generation presented in the recent documentaries screened at Hot Docs 2011 indeed adhere to an existentialist sentiment, in that they stress an individual's self-determined position to be responsible for the authenticity of his or her choices. And returning to what Farnel set out to state when he was struck by the binding notion of authenticity, "bearing witness to the everyday and the extraordinary in the lives of others, there is an invitation to feel more than real." Let us hope that the authenticity exuding from these filmmakers and their subjects is catching – even if we can't change the world with them.
-