The Country Inn (gÄstgivargÅrn)
Sweden, 2001, 55 min.
Swedish documentarian Stefan Jarl is best known for his Mods Trilogy, which follows two members of Sweden's underclass over two decades, and his nature documentaries (particularly those dealing with Lapps), so on the surface, this portrait of a small inn in the Swedish countryside might seem somewhat like a departure.  But it's actually filled with everything that makes Jarl's films interesting: attention to detail, careful integration of the landscape, and an enthusiastic interest in elements of Sweden's regional cultures that might seem anachronistic. So although it is certainly Jarl's least political work, it's no less worthy as an accomplishment. If anything, this absence of political content clearly reveals just how diverse his interests are, how open he is to new kinds of material.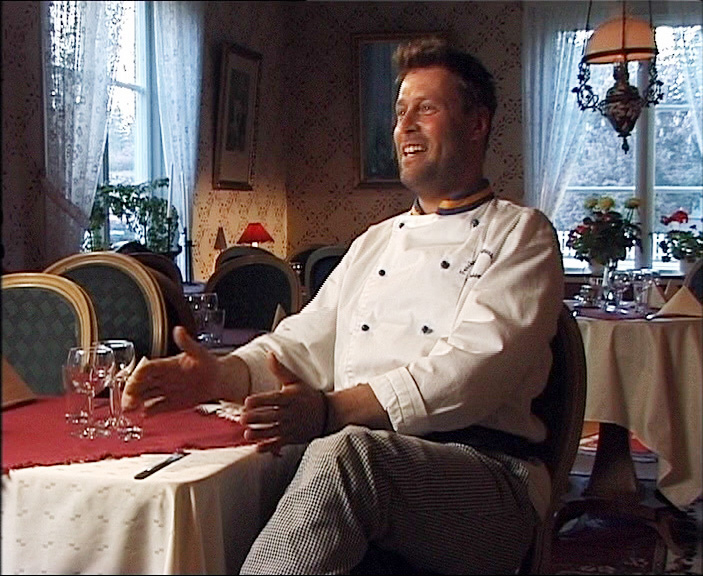 Much of the documentary is devoted to images of Johansson and his colleagues at work, creating incredibly elaborate place settings and meticulously preparing the dishes. Many dishes are shot at close range with an immediacy reminiscent of Jarl's photography of reindeer herding in Time has No Name (1989), and Jåvna: Reindeer Herdsmen in the Year 2000 (1991). But when Jarl pulls back, his artistic sensibility is clearly visible (even though Jarl shoots on video); the shots of the snowy countryside are quite lovely, and an image of a waitress going out to light traditional Christmas candles is particularly striking.  Jarl also sprinkles in some talking-head interviews with Johansson (mostly telling funny stories that will sound familiar to anyone who has ever done any catering, such as the one about an incompetent, novice chef who tried to remember what part of the pig veal comes from). But the overall feel of The Country Inn is subjective and observational; it rambles at times, but we get a clear sense of Jarl's fondness for this place and for the quiet intensity Johansson brings to his work.
So while a production about a nice country inn may seem a bit frivolous in comparison to Jarl's earlier work (whose subjects included Chernobyl's effect on the Lapps, or the havoc wreaked by chemical fertilizers on agricultural cycles), The Country Inn strikes me as an admittedly minor piece, but one that is fundamentally consistent with Jarl's oeuvre as a whole. It is essentially a non-narrative, somewhat detached, but still enthusiastically rendered portrait of collectivity on Sweden's fringes, collectivity that looks towards the future in a manner that is still rooted in tradition.
-