Food. It's a hot topic in America – the way people eat (fast food culture), what people eat (the prevalence of junk food). Obesity is a huge problem, recent statistics put it at 30 percent of Americans, and the divide between those eating consciously (healthy and organic) and those eating carelessly (or cannot afford quality food) is hugely evident – though shifting due to media coverage (even mainstream Time Magazine got into the mix). I was thrilled to get the assignment to write on CPH:DOX.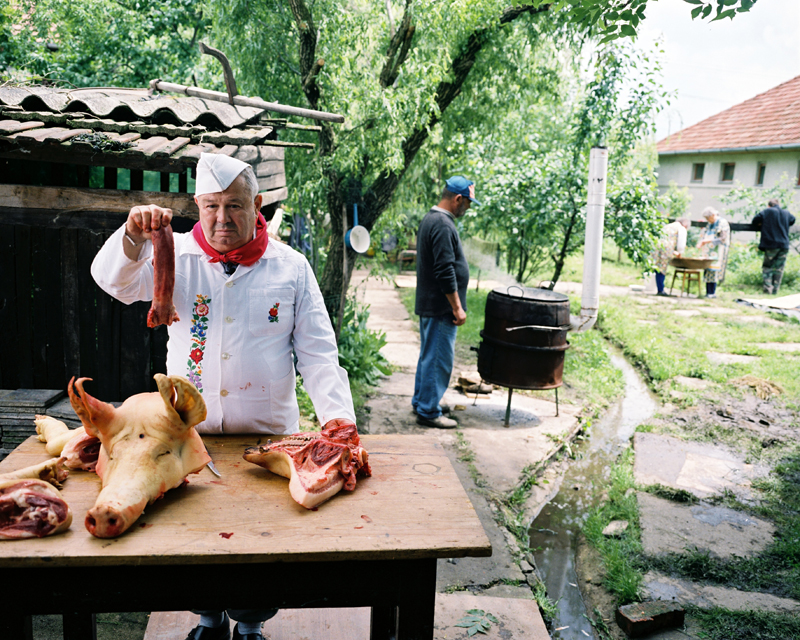 I'd never been to Copenhagen and I'd heard great things about the festival. When packing to leave, and adding my green food bars to my bag – I'm one of those healthy eaters and didn't want to get caught without nutritional supplies – my friend said to me, "You don't have to worry about taking all that, everyone eats well over there."
My impression of the festival started with accommodations at Hotel 27, where yes, my
friend was right, the food was superb and exceeded my organic dreams. I immediately became curious, not only about Danish culture and how it relates to the programme, but also about the food: did all of Denmark eat this way? Or was it just a slice of Copenhagen? Was this one reason, together with all those bikes, why I don't see any obese people?
My interest was surely piqued because my writing assignment was to cover the festival's Food on Film programme for this magazine. There are no documentary boxes at CPH:DOX. Every corner of "the real" from the socio-political to personal journal to artistic to the downright wacky is explored. Events from panels to multi-media concerts play a significant role, expanding the festival experience offscreen. The Food on Film section was cosponsored by Meyer Madhus, the Danish healthy food pioneers. The section featured four films paired with related events such as tastings and discussions about food culture, all designed to raise food awareness.
Colony, by Carter Gunn and Ross McDonnell, made a stop in Copenhagen after playing festivals worldwide. The elegantly photographed documentary chronicles the demise of bee colonies, commonly called colony collapse disorder. At the screenings, Madhus placed apples next to viewer's seats to contextualize the film and personalize the experience. You like that apple? Without bees and pollination it wouldn't exist.
After the screening – at the Geological Museum, what better place to evoke the connections of the natural world? – Danish author Tor Nørretranders lectured on food choices and sustainability. The Colony event continued outside the theatre. Danish beekeepers offered handcrafted honey samples, bees swarmed in a hive, cucumbers (something I was starting to notice are popular in Copenhagen) cleansed the palette, more organic apples and pears (and Madhus chocolates) to taste. Also screening this year was Tapped, Canadian filmmaker Stephanie Soechtig's tale about the bottled water industry's dark side. After that screening, municipal water tasting washed down raw food treats and drove home the notion of "bottled may not be better."
A unique spin on food was Cooking History, Slovakian director Peter Kerekes' savvy look into an aspect of war not typically documented: the feeding of the hungry soldiers and the brave chefs behind the recipes. Pancakes and coq a vin, pickled mushrooms and paprikash, these are not the things you'd typically associate with the battlefield. If it's true "an army marches on its stomach," as Napoleon is purported to have said.
Combat cooks have worthy stories to tell.
Cooking History is shot in Russia, Germany, Hungary, France, the Czech Republic, Serbia, and Croatia. It's divided into various wars and the cooks and recipes that fed them. Cooking History is shot gorgeously in 35 mm film. There's a mash-up of elements, perfect for CPH:DOX. The film is loosely threaded by a combat stove being hauled by helicopter to an unknown field kitchen destination.
There's archival war footage, cooks' recollections, and surreal reenactments – like chef Peter Silbernagel, one of the few survivors when the German submarine Hai sank in 1963, recounting his experiences while he stands and prepares food, waist deep in rising water. Elements are interwoven in an inquisitive, offbeat way. As example, Kerekes asks a Hungarian chef who worked for the Soviets after they invaded his homeland: "How did you feel cooking for people who blew up your goulash in 1956?" "Food and fighting have a lot in common," writes Kerekes, "strategizing, judging the correct proportion of ingredients, flavouring.
Food preparation becomes a metaphor for the battle." And about preparation, this is not a film for the butchering averse; as a vegetarian I looked away from carcasses several times. Then again, butchering, and all the raw bloody mess, fits the vicious realities of war. Even harder to handle was the German soldiers, who, boldly I think, opened the film. It was disturbing to watch old World War II German soldiers walking freely amidst a picturesque forest recalling the taste of the komissbrot bread that fortified them.
My blood was boiling: If they'd have starved instead, would more Jews have survived? "Bread is bread, regardless of nationality," says a Russian cook. This seems innocent enough. If bread could bring people together wouldn't we be better off? There is something profound about the seeming dichotomy here, the love for food the chefs bring, the delight the soldiers take in eating, the meals fuelling troops who torture and kill others. Kerekes does a terrific job staying like Switzerland, for the most part, not judging memories. He is a filmmaker after all, and his gift is filling out history.
At one point, Kerekes' possible point of view emerges: "Aren't recipes the same as orders?" he asks a German cook. "I don't understand the question," the cook replies. After the Cooking History screening at Copenhagen's Grand Theatre, a former Danish army commander served sausage out of an old Polish military kitchen used during the Cold War.
The fourth film in the Food on Film programme was Fresh, by American filmmaker Ana Sofia Joanes. Fresh was billed as "taking over from where Food, Inc. ended" referencing the 2008 documentary hit about the harsh realities of the meat and produce industries. Where Food, Inc. pointed out problems, Fresh presents solutions. One of the issues with American social issue docs is they can lack aesthetic appeal, too focused on advocating their message while
neglecting the cinematic experience.
Fresh bucks that trend. It has working in its favour the panoramas of the fields and farms it highlights all across America. It also has terrific, engaging subjects, committed to their way of doing things, even if it's backwards. It's really hard for me to wrap my head around people like the industrial chicken farmers who live in denial of their inhumane treatment of animals. I am fascinated and appalled by such people. How do they believe their lies? Joanes's camera tells a second story – brilliant close-ups offer a look into the unconscious weight of their decisions. Food guru Michel Pollan offers commentary throughout Fresh, covering issues from seed to plate, debunking the benefits of commercial agriculture, the upside of chemical herbicides and the necessity of industrial food production to feed the planet. Toxic waste, hormones and pesticide pollution in soil and water – all the bad stuff stemming from factory farming and agriculture – is quickly reviewed.
Upon returning to the US, the sweet taste of CPH:DOX remained with me, and it wasn't just the Madhus treats or honey from the Colony screening. I felt grateful to have experienced a programme so satisfying, so outside of the usual doc box that it left me inspired. What did I notice the most upon my return? A lot of overweight people. Soon after, in the grocery store, carts overflowing with junk food. A bicycle and an apple would do America good.
-