At Guth Gafa, Longinotto gave a master class arranged by Screen Training Ireland. Her presentation is generous, open and full of contradictions and inconsistencies, a point she openly admits at regular intervals – along with her other repeated insistence that she is insecure, in constant need of praise, yet singleminded enough to brush aside criticism. Her frankness shines through when referring to the importance of being open.She acknowledges how much her parents disliked her, and how much she disliked various collaborators along the way, while falling in love with a few of the protagonists. It all makes for a complex character: Longinotto is ambiguous, yet honest in her irregular opinions.
Kim Longinotto tells DOX that she does not choose to personally attend many festivals (though she seems to be persuaded relatively often). She says she is never going to do more workshops. She would much rather festivals invite one of the women from her everincreasing catalogue of films. Yes, after having spent time with Jackie Branfield (in Rough Aunties) at the Films from the South Festival in Oslo last October, I feel it is clear these women get debate raging on the issues. Longinotto herself has commented: "When the people in the films travel they are the ones that get standing ovations, not me". When the director travels to represent her films in person it is her style of filmmaking that becomes the focus: her observational, non-intrusive style about which much has now been written, which she has had to defend, but which now seems to be all the rage, pushing voiceovers far down the scale of what makes a documentary cool in 2010.
Longinotto talked to DOX about her new film Pink Saris, though it was not able to be screened there. DOX has seen it, and can report that it is made in the same silent witness, cinema verité style as her previous films, making the audience forget quite how they came to be allowed to watch all that is going on. Pink Saris follows four dramatic stories in the Utar Padesh region of India, all revolving around the central figure of Sampat Pal Devi. Sampat is the leader of the Gulabi, or Pink Sari, Gang, well known in India for its vigilante style of addressing injustice, sometime through physical confrontations. In the film, Sampat is one angry lady – raging against the caste system, the mother-in-laws that beat and the father-in-laws that rape. Sampat confronts, Sampat walks off, Sampat sets up impromptu court and says what no one else dares to. Sampat declares: "There is no greater god than women, God can go to hell." She shouts for all to hear: "I am more powerful than the police.
«Pink Saris is made in the same silent witness, cinema verité style as her previous films»
They are nothing compared to me. I beat up a cop once." She takes victims in to her already over-crowded home and/or sends them on their way back to whence they came, and in doing so becomes a perplexing, heroic, and at times downright unpleasant character. Longinotto explains to DOX that: "I filmed for ten weeks and flipped between loving Sampat and hating her. In the end the audience feels equivocal about her. She is too famous, too powerful, the sympathy is with the girls. In the end Sampat hasn't changed anything." The girls she 'helps' often look miserable for more than one reason: they seem torn between a desire to run away from the overpowering figure of Sampat and grabbing a chance to escape their lives of misery and physical abuse.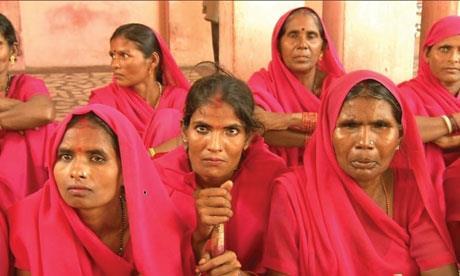 Their stories are so important to hear, and yet at times they shrink so much they struggle to rise above the torrid Sampat. The director insists that Sampat is not the main emotional thrust of the film, that both the emotions and stories belong to the four girls. I am less sure – Sampat is overwhelming in the film, playing to the camera, shrieking and ordering everyone around her, until even her loyal partner Babuji suggests she is getting arrogant and losing her direction "Your mentality is changing. You've become so grand. If you want to be a big shot go ahead". In terms of Longinotto films, this woman, with whom we try yet ultimately fail to identify, presents a divergence from the strong women of earlier films who fit more easily into the transnational feminist solidarity model. But Pink Saris shows us the true face of reality – whatever the law states on paper in terms of equality and justice, this is what the fight for genuine change on a relatively miniscule scale looks like on the ground.
In these days of campaigning documentaries, directors increasingly become spokespeople for the injustice they are representing. Longinotto says she has an "obsession to get the films out", but I do not think she can be placed within the ranks of the campaigner-directors. According to Longinotto: "My dream is of someone who is doing it for me. I wish we had a Woman Make Movies in Africa. The places could have it free … I would give them the digi versions, I am looking for someone, but can't find them, in Africa and India". In terms of using film to educate, Longinotto has made it clear that she gets annoyed when people want to know more factual information  after a screening – she is after an emotional reaction, not a desire to know more facts there and then. They can be googled later. This seems right, and is not a form of avoidance. The discussions on caste, tradition and how social changes are happening. Educationalists use the film in their lectures and training sessions and in various corners of the world after the googling has been done.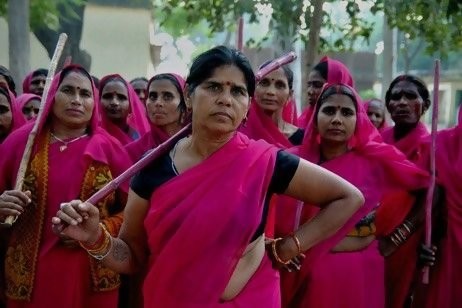 The next Longinotto film we can expect to see will be from Pakistan. She explains: "Pakistan is how I felt about Iran (only now have people come to know about the Green Movement). Pakistan has been demonised. I want to make film about ordinary Pakistani people; I'm looking for heroic women." Longinotto adds: "They're all the same film, but you don't know since they are in different countries." Perhaps we do know, but don't mind. Likewise the lack of direct explanation in the films through voiceover or text: "Most of us don't mind anymore Kim Longinotto; you do not need to defend it any longer – it is the 'in thing' and so are you, with all the ambiguities of real women along for the ride".
-