Sons of Cuba is set in the legendary Havana City Boxing Academy, a boarding school that hand picks nineyear – old boys, and turns them into the best boxers in the world. The boys' duties extend beyond the ring: they are groomed not only as world-class fighters, but also to be international symbols for their country, dubbed by Castro: "the standard-bearers of the Revolution". The documentary follows the stories of three young hopefuls through eight dramatic months of training and schooling as they prepare for the biggest event of their lives: Cuba's National Boxing Championship for Under-12's.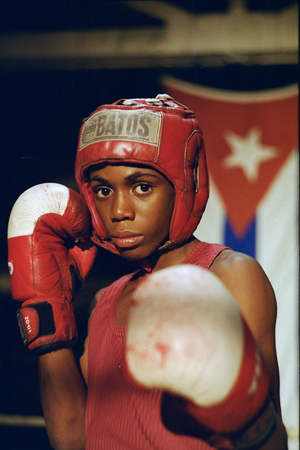 The Havana City Boxing Academy is home to Cristian (a natural boxing talent), Junior (former ballet dancer turned compassionate boxer), and Santos (musician and lover of pastries who struggles to keep his fighting weight). These three are among a group of 25 working-class boys aged between nine and 11, chosen from hundreds of young hopefuls to attend this weekly boarding school. The state pays for their accommodation, training and lodging, and through a strict training regime, starts them on the road to becoming the best boxers in the world. If they stick at it they have a good chance of making it to the top. In Sons of Cuba, by British filmmaker Andrew Lang, we follow the struggles of these boys, both in and out of the ring.
Is the film a portrait of sacrifice, social hardship and political indoctrination? Or is it about a country full of love and passion and the rewards of dedication to the cause, be that sport or communism? It will depend on your viewpoint before going in, but it is probably a mixture of the two.
Up every day at 4 am for two hours of intense training before school and more training afterwards, home only at weekends, we follow 'our team' in the months preceding the under-12s National Championships. The sheer physical fitness and talent of these boys is enough to fill any lazy film viewer with awe, but it is their charm and their dedication to their families and to each other that really blows one away. The respect and love given in all directions – from coach Yosvani to the boys in his charge, from the boys to their mothers, between the boys, and even between the rival coaches – is often powerful enough to induce tears, both on screen and off. Tears flow too from hunger, from bloody noses, from sore heads and most of all at the disappointment of not making the final team of ten that go to the Championships. The emotional highs and lows, the beauty of the boys and the cinematography, the inevitable final boxing match with parents, teammates and coach cheering along, all make this more of a drama – with a political element – than a boxing documentary might initially suggest.
https://www.youtube.com/watch?v=KB-g-WL3Jok
Shot in 2006, Fidel Castro is still in power as the film begins, and it opens with his words: "The revolution must concentrate on sport. It is of the outmost importance. Youngsters will be selected from the masses and given the best possible training. On the front line of sport the Revolution will advance." Sport has always been Castro's passion: he watches it so avidly, he admits, that he sometimes forgets to take his medication. He visits training camps and sports schools, and spends time with successful sportsmen and women. He established the grand International School of Sports and Physical Education, presently with 1500 students from developing countries and Cuba, all studying for free. Cuban high-performance athletes can receive free tuition to become professors of sports. This is how Yosvani, the boy's coach, learnt his trade, while many others now work in developing countries in the same way as the more wellknown Cuban doctors. At the last Olympics, eight countries had Cuban trainers for their boxing teams.
Since 1990, the Cuban government has spent more than $80 million per year on Olympic sport. In one of his speeches, Castro summed up the results of this investment: "What has Cuba's role been in the Olympic Games? What has it achieved? What has been the fruit of our efforts to promote healthy clean sports? At the 1972 Olympics, we finished 14th among 122 countries. In 1980, in Moscow we finished 4th among 81 countries; in 1992, and in Atlanta, in 1996 we finished 8th among 197 countries. Could anyone refute these figures?" In the most recent Games, Cuba obtained a total of 24 medals – a higher number than any other country in Latin America and the Caribbean.
Login or signup to read the rest..
If you do not have subscription, you can just login or register, and choose free guest or subscription to read all articles.
-