Sons Of Cuba
UK 2009, 58min
Sons of Cuba is set in the legendary Havana City Boxing Academy, a boarding school that hand picks nineyear – old boys, and turns them into the best boxers in the world. The boys' duties extend beyond the ring: they are groomed not only as world-class fighters, but also to be international symbols for their country, dubbed by Castro: "the standard-bearers of the Revolution". The documentary follows the stories of three young hopefuls through eight dramatic months of training and schooling as they prepare for the biggest event of their lives: Cuba's National Boxing Championship for Under-12's.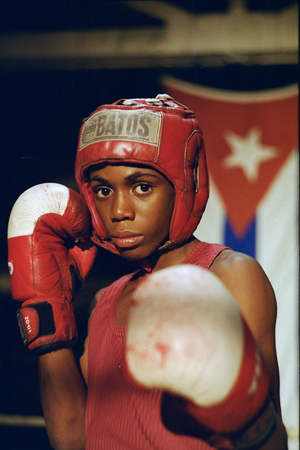 The Havana City Boxing Academy is home to Cristian (a natural boxing talent), Junior (former ballet dancer turned compassionate boxer), and Santos (musician and lover of pastries who struggles to keep his fighting weight). These three are among a group of 25 working-class boys aged between nine and 11, chosen from hundreds of young hopefuls to attend this weekly boarding school. The state pays for their accommodation, training and lodging, and through a strict training regime, starts them on the road to becoming the best boxers in the world. If they stick at it they have a good chance of making it to the top. In Sons of Cuba, by British filmmaker Andrew Lang, we follow the struggles of these boys, both in and out of the ring.
Is the film a portrait of sacrifice, social hardship and political indoctrination? Or is it about a country full of love and passion and the rewards of dedication to the cause, be that sport or communism? It will depend on your viewpoint before going in, but it is probably a mixture of the two.
Up every day at 4 am for two hours of intense training before school and more training afterwards, home only at weekends, we follow 'our team' in the months preceding the under-12s National Championships. The sheer physical fitness and talent of these boys is enough to fill any lazy film viewer with awe, but it is their charm and their dedication to their families and to each other that really blows one away. The respect and love given in all directions – from coach Yosvani to the boys in his charge, from the boys to their mothers, between the boys, and even between the rival coaches – is often powerful enough to induce tears, both on screen and off. Tears flow too from hunger, from bloody noses, from sore heads and most of all at the disappointment of not making the final team of ten that go to the Championships. The emotional highs and lows, the beauty of the boys and the cinematography, the inevitable final boxing match with parents, teammates and coach cheering along, all make this more of a drama – with a political element – than a boxing documentary might initially suggest.
https://www.youtube.com/watch?v=KB-g-WL3Jok

Login to continue...
You have now read 4 free articles this month, so log in if you are a subscriber,
or please
click here for subscription
(3 euro/month) to read all articles.
-