Why did we choose a 7-min short at ZagrebDox?
Why this sudden focus? Maybe due to a weariness of all those long documentaries made for festival programmes?
My experience with feature-length documentaries, tells me that eight out of ten should have been less than an hour long – not 90 minutes of telling, telling and telling. We have often already got the point, and the emotional aspect doesn't last forever.
The writer Jorge Luis Borges proved in his book Labyrinths1 that if you can write a story in ten pages, it doesn't need to be any longer. So why not apply this to documentaries? Often if you can make a story in ten minutes, it doesn't need to be any longer. There is frequently no more to be said in a story, and today's audience is becoming more and more used to stories, so the short format will do more often than not. Besides the film content, the form could often be more telling when the cinematographer can concentrate the aesthetics – like some art videos.
Also: with the advancement and market requirements of transmedia, the new webdocs and mobile phone formats also ask for short docs.  The audience isn't going to cinema theatres like they used to, and the tv channels compete for attention.
When I was a jury member at Zagreb Docs in March, we had to chose between 30 (!) documentaries of different length for the international competition. After seeing the films, I asked festival director Nenad Puhovski if we could really give the prize to a 7-minute short film without any voices? Of course. Suprisingly, my two jury colleagues already agreed with my suggestion: they also found the Polish film Returns by Krzysztof Kadlubowski an oustanding doc [See the DOX bundled DVD]. We declared that: "In only seven minutes, the short film Returns has everything –  the visual form giving the content: A real-life documentary about the ritual of a state funeral at Warsaw airport, without the need of voices to explain." The rehearsal of the coffins' homecoming, edited with the Polish composer Frédéric Chopin's Funeral March playing in the background. The film ends with a text reference to the plane crash two years ago, involving the Polish president and his team. No need to write or film more.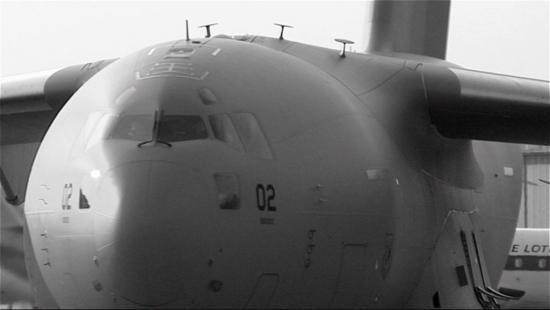 A short doc can be like a short essay, or a poem. Myself I have often preferred the aphorisms of philosophy – like those of Nietzsche or Wittgenstein.
In our era of  entertainment, a short film can be the truth-sayer, the important little story that says it all,  the argument with a point, or the statement in a debate. But the short has to be good, far better than the usual YouTube sequence.
1.Borges, Labyrinths: Selected Stories and Other Writings, chapter "The Library of Babel".  New York: New Directions Publishing, 1964.
-