Dimitri Eipides founded the Thessaloniki Documentary Festival – Images of the 21st Century (TDF) in 1999. The festival quickly became one of the top documentary festivals in the world. He is also the director of the Thessaloniki International Film Festival (TIFF) since 2010. Eipides was born in Athens. He studied English Literature and Theatre at the University of San Francisco, and Stage Direction at the American Academy of Dramatic Arts in New York and the London School of Film. In 1971, with Claude Chamberlain, he founded the Montreal Festival Du Nouveau Cinema, of which he was director for the following 14 years. From 1988 until today, Eipides has worked as senior international programmer at the Toronto International Film Festival, while since 1995 he has been the program director of the Reykjavik International Film Festival. In 1999 FIPRESCI presented him with an honorary award for the quality and originality of the New Horizons section and in 1993, the Iranian Minister of Culture honoured him in recognition of his role in the international promotion of Iranian cinema.
And now the EDN Award 2011 in recognition of, as EDN's director Hanne Skjødt says: "His enthusiastic commitment to establishing a space for the independent creative documentary in Greece [which] resulted in the Thessaloniki Documentary Festival becoming one of the leading and highly respected European festivals.
Dimitri Eipides has an extraordinary ability to program a strong contemporary international selection of documentaries. When times change from difficult to worse some people bend, whereas others, like Dimitri Eipides, decide to fight even harder by taking on more responsibilities and bigger challenges. To honour his outstanding contribution to the development of the European documentary culture we are very pleased to present the EDN Award 2011 to Dimitri Eipides."
Sitting in Eipides' office in Thessaloniki, in between some intense days, we managed this little talk:
–What's your very personal motivation for starting this festival 13 years ago?
– My motivation is that I've lived a long part of my life abroad in North America – mainly Canada – and information there is largely accessible to all, the sources of information, everything is there for everyone's use. When I departed to live here I felt a little bit isolated and deprived because Greece is on the edge of Europe. Information comes mainly through the official channels, like television and the press. News is not that credible to me, it comes from news agencies and sometimes there's political manipulation or certain things that promote it for different reasons. It doesn't have the power and the immediacy that you get from a documentary that goes out and films a reality that concerns the director.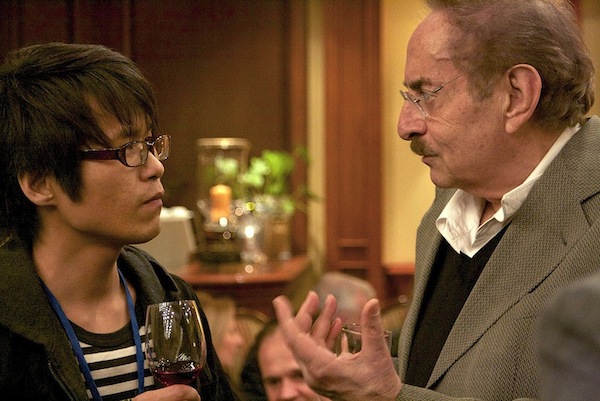 – How many years have you been programming film?
– I started the festival in Montreal. It's over 40 years.
– What are the two main key concepts or key methods to choose a film for you?
– Very personal. There's no method. There's just instinct and the way I perceive it and the way I evaluate it, based on my own personal standards I suppose. I consider myself a sort of normal viewer, a person who appreciates that I need to know why I'm here for one thing. In order to understand that, I have to understand what goes on around me as well. The world has become very much smaller; we're only minutes away from Korea or Scandinavia or South America. Now it's immediate contact.

You have to login or create account (top menu) to read on for a while. Or get full access, print magazines and your own presentation page as a
member
.
-