Istanbul. Early March 2003. The banner on Taksim Square could have marked a protest against the (upcoming) war in Iraq, but it did not. It was a peaceful invitation to watch documentaries at the 6th International Belgesel (Turkish for 'documentary') Festival.
The organizers, however, could easily have protested against Bush and Blair. If you decide to make documentaries in Turkey, you do so from a political standpoint and with a strong commitment to what is going on in the world. You want your films to be seen and used. You want opinions to be expressed. Turkish documentary filmmakers focus on injustice. Needless to say, in Turkey's political reality many documentarists have been imprisoned for political views and opposition to diverse military regimes.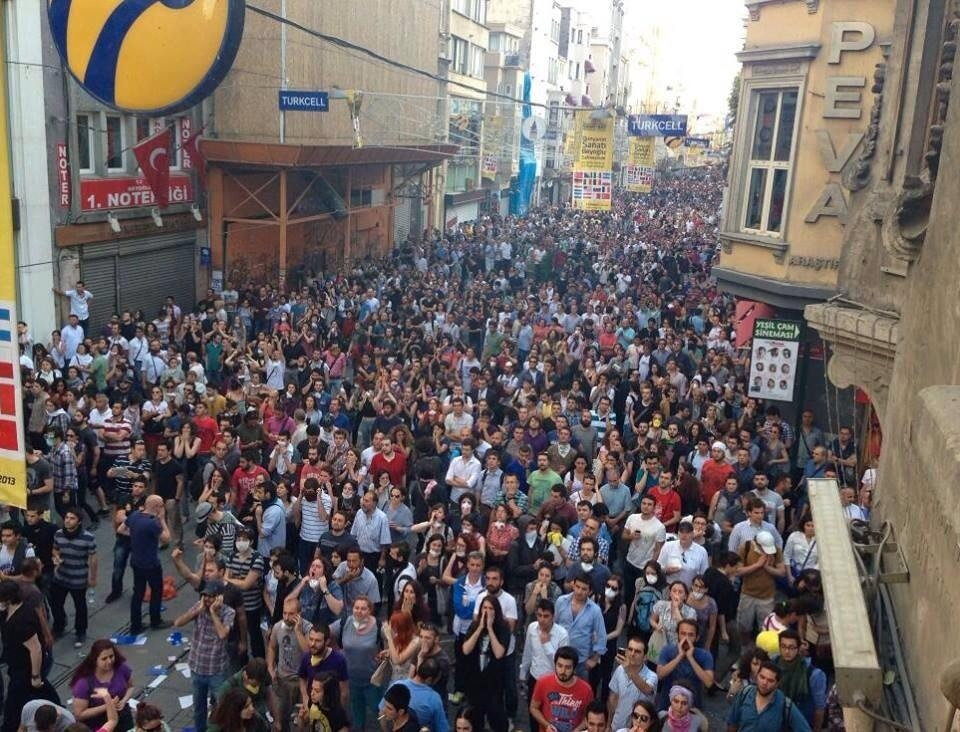 In many ways, the hallmark of modern Turkish documentary is the kind of militant documentarism we remember from the '70s in Western Europe. With a different aesthetic approach, several films take a political look at disappearing cultures in the country and at violence and political oppression.
The activists from the festival organizers BSB (Association of Documentary Filmmakers in Turkey) had put a banner on a square where thousands of people pass each and every day, close to the French, the Italian and the German cultural institutes where most of the screenings took place. The organizers couldn't afford to hire commercial cinemas for the screenings. There were no red carpets, but there were full houses at almost every screening. Young people gathered to watch the eighty documentary films that were selected "to cover the problems of the world" (quote from catalogue foreword). Politics, human rights, culture, history. Those were the themes. The programme was devoid of 'me and my family' films.
Distribution
BSB has a clear goal for their work. Whenever a film has been produced, it has to reach the audience, and television does not fulfil this task sufficiently. This is stipulated in the festival catalogue foreword, a clear indication of why BSB has taken the initiative to set up a nation-wide distribution scheme:
"Whenever documentaries are shown on television in our country, the only channel that achieves both production and broadcasting – with one or two exceptions – is TRT (Turkey's public service channel – ed.). Most of the channels don't hesitate to call some productions a 'documentary', even though they are not. Excursions, TV crew adventures, murders, 'lion eats deer', scientific explorations are unfortunately all called 'documentaries' by the TV channels."
Most of us are familiar with the content of this text from the BSB association when we think about the situation in our own countries, where public service obligations are not always interpreted to include the production and purchase of documentaries. This is said without comparison: many producers and directors who have individually worked with TRT shook their heads, smiling, at the question of whether the national channel was independent and free of political influence.
BSB organises four festivals a year in various Turkish cities. Plus free screenings and debates in towns and villages that provide venue and accommodation for the BSB representatives who bring along mobile cinema equipment, i.e., in this case a VCR and a video beamer. For professionals, the organization publishes the periodical Documentary Cinema. Members teach at universities and write manifestos and declarations to promote the role of documentaries in society. Founded in 1997, BSB (a non-governmental initiative that 'advocates documentary films as an indispensable element of the plurality of civil society') gathers together 'academics, theoreticians, professionals, amateurs and aspiring documentary filmmakers'. Hence the broad perspective and the concern for social history and cultural identity expressed during the adjoining conference on documentary and globalisation.
Hunger Strike, Prison Violence and Cultural Tradition
You have to login or create account (top menu) to read on for a while. Or get full access, print magazines and your own presentation page as a
member
.
-