That was the clear message emerging from the discussion about training in Bardonecchia, at the Documentaries in Europe conference.
Eurodoc, EAVE, Media Business School, Vertical Strategies…  a wide variety of European professional training courses are available on pitching, packaging, financing, co-production, and promotion. All very useful and necessary, but all geared toward producers. Documentary directors wanting to improve their skills and keep up to date on professional developments in an international context do not have many places to go. Most of the participants at the Documentary in Europe session on training agreed on that.
But why would directors who have already spent many years at film schools need more training? Claas Danielsen, a German filmmaker and Head of Studies at Discovery Campus, argued that the market and the industry are changing so dramatically that education received several years ago is no longer adequate. That applies to both directors and producers, so both need to work constantly to stay up to date. But if only the producers are able to do so, the gap between producers and directors begins to widen. As veteran Dutch filmmaker Hillie Molenaar pointed out, this differentiation is problematic. The result, she finds, is that producers become increasingly professional and develop international contacts, while filmmakers still lead a sheltered life as "artists". Another aspect of this one-sided professionalization was brought up by Caroline Cooper, acting director of the Sheffield International Documentary Film Festival. She finds that producers are taught how to deal efficiently with budgets, commissioning editors and pitching, but not how to work with directors – the central core of their occupation.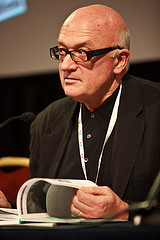 The repercussions of this trend were also recognized by Nick Fraser, BBC commissioning editor, who often meets "producer whiz kids" presenting very professional projects with sales potential but no content. According to Fraser, one of the obstacles that must be overcome in order to improve the situation is that MEDIA should acknowledge that its support is not about business but about visual communication and culture.
MEDIA supports training, promotion and development, and most people agree that project development is important. Often, however, it is seen as solely the producer's task. Here Jacob Høgel of the Danish Film Institute strongly disagrees. He argues that, in the development stage of a project, it is much more important to get the creative aspect right than to focus on packaging. As a result, he considers further training for directors very important. In addition, he identifies a need for more opportunities to watch and discuss films, because he is often amazed at the lack of knowledge about existing documentary films among those directors who step into his office.
For directors requesting more and better training in the future, there is hope: there may be more room for considering their needs in the successor to Media II, Media Plus. The suggestion has already been made to expand training to include more material for directors, and the European Parliament is in favour of that move. At this time, however, it is not yet certain what the commissions will decide.
Survey of Documentary Education
In an attempt to map out the educational background and need for education among documentary professionals, the German-Italian film school Zelig and the Italian doc association Doc/It carried out a survey among their own members and the members of EDN and a.g.dok. The results were presented in Bardonecchia.
Educational Background 
Significantly, but not really surprisingly, not many members (only 22.1%) have an education specifically in documentary. But documentary filmmakers and producers are quite well-educated. 79.3 percent have a university-level education, though often in other subjects. 43 percent responded that they were self-taught when it comes to specific training for their profession. Although many do not have a documentary education, 67.9 percent of respondents are satisfied with their education. Still, 83 percent find that a specific doc education is needed. The major criticism about the education received was that it did not fill professional needs: too theoretical, not practical enough, and too many incompetent teachers.
Further Training
The survey also dealt with the need for further professional training. A little more than 50 percent find it necessary to keep oneself updated consistently. 13.7 percent find that they need more education in general. 76.2 percent would be willing to pay to take courses, although shorter duration would be preferable: weeks or weekends once in a while. 48.9 percent would find this difficult because of time constraints, 24.4 percent because not enough opportunities are offered, and 23.3 percent because of too high costs.
The results of the study can be viewed at Zelig's website: www.zeligfilm.it
-